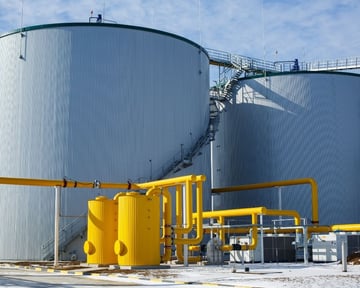 Digital transformation is changing the way businesses are functioning globally, and the Oil and Gas industry is no different. To remain flexible, agile and profitable, companies have turned to technology and innovative software solutions to maximise operational efficiency and productivity. This shift is being seen in the downstream supply chain as many businesses make a move towards digital supply chain management. This shift sees the processes and systems related to routing, scheduling, transport, logistics and distribution of Oil and Gas being optimised using digital technology. Through the implementation of a digital supply chain management solution, Oil and Gas businesses will save on operational costs, increase service levels and customer satisfaction, mitigate risks as well as enhance performance and productivity.
What is a Digital Supply Chain?
The term digital supply chain refers to the use of technology, specifically software solutions, that aim to automate and enhance the performance of the downstream supply chain. The focus of this being on processes and systems relating to logistics, routing, scheduling, warehouse management and the distribution and transport of products. So why are businesses turning to supply chain technology? The answer lies in the opportunity that this type of technology brings with it.
According to the World Economic Forum, the move towards creating digital supply chains in Oil and Gas companies, could unlock approximately $1.6 trillion of value for the industry, its customers and broader society. This is primarily due to how digitisation is able to optimise distribution and transport management processes within the business and impact profit margins that facilitate business growth and development. Considering that transport and distribution costs can easily represent 80% of a company's operational expenditures, why would you not look to digital technology to optimise this? By creating a digital supply chain, companies can ensure:
Faster distribution of product – digital technology enhances the effectiveness of the supply chain and reduces the delivery time of products to customers. This is done by using advanced forecasting, predictive analytics, machine learning, and the big data capabilities that this technology provides. The insight from this digital data allows for a more precise forecast of customer demand, allowing you to plan accordingly to meet customer product and delivery needs.


More flexibility – ad hoc and real-time planning allows for a flexible reaction to changing demand or supply situations. Planning cycles and frozen periods are minimised, and planning becomes a continuous process that can react dynamically to changing requirements or constraints. This enables you to manage any disruptions or changes effectively and proactively without stalling any other processes in the downstream supply chain.


Tailored customer-focused services – customers are becoming more and more demanding and are looking for individualised products/services. Digital technology allows you to customise different elements to meet the changing needs of your customer.


Enhanced accuracy – digital supply chain management systems provide real-time access to data and end-to-end transparency throughout the supply chain. This provides full visibility on all systems and processes as well as a joint information basis for all levels of seniority and functions in the supply chain, thereby enhancing the accuracy of planning and operations.


Increased efficiency – efficiency in the supply chain is boosted by digital automation of both physical tasks and planning. The automation of these processes allows for tasks, such as picking, to be conducted quicker and more accurately, allowing for more efficiency and faster distribution.
The implementation of software and technology to create a digital supply chain is becoming increasingly popular as companies begin to understand the impact and value that this type of software can have on the business and its overall profit margins. Below we examine the specific value that a digital supply chain adds to the transport and distribution processes of an Oil and Gas company.
How does a digital supply chain add value to transport and distribution processes?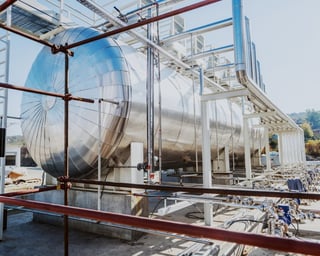 Many different elements can be optimised in the downstream supply chain through the use of digital software technology. These include:
Planning
Supply chain planning is essential to the downstream supply chain. There are two types of planning operations:
Predictive analytics in demand planning – predictive analytics in demand planning analyses hundreds to thousands of internal and external demand influencing variables while using machine learning approaches to uncover and model complex relationships to derive an accurate and granular demand plan. The use of this planning capability enables a significant improvement in demand forecast accuracy and can reduce forecasting errors by 30 to 50 per cent.
Closed-loop planning – creates collaboration between different planning steps and transforms planning into a flexible, continuous process. This planning capability integrates pricing decisions with demand and supply planning, stock levels, expected demand, replenishment, to optimise the overall profit made and minimise inventories simultaneously.
Physical flow
A digital supply chain will positively affect the logistics and physical flow of product as it allows for better connectivity, provides advanced analytics, additive manufacturing, and advanced automation. The automation and digitisation of warehouse management will also impact the physical flow with many warehouses being fully linked to production loading points allowing for the entire process to be carried out without manual intervention.
Performance management
Software technology allows you to access data in real-time. This access to data and information will allow you to identify critical supply chain disruptions and opportunities for operational improvement and solutions. The software will also assist in managing disruptions by automatically triggering countermeasures, such as activating a replenishment order or changing parameter settings in the planning systems, such as safety stocks.
Order management
A digital supply chain allows for efficient order processing and real-time replanning. The automation of processes leads to lower costs, higher reliability due to granular feedback which enhances customer experience through immediate and reliable responses.
Collaboration
By using cloud-based digital supply chain software, you can enhance collaboration between different business and operational teams. This collaboration along the value chain allows for much lower inventories overall through an exchange of reliable planning data, a step-change in lead time reduction through instantaneous information provision throughout the entire chain, an early-warning system and the ability to react fast to disruptions anywhere.
Supply chain strategy
Through the use of digital supply chain software, you can utilise data and information to gain insight into your customer needs and requirements. This will allow you to provide tailored and customer specific products that add value to your customers, meet their specific requirements and minimise costs.
A digital supply chain enables you to plan and forecast effectively, ensures that your distribution process is fast and efficient and that any disruptions are identified before they become a costly problem. Through a digital supply chain, you can enhance visibility and productivity, but most importantly, you will be able to improve your service levels and drive customer satisfaction and business growth.
Barriers and Facilitators to Digital Supply Chain Maturity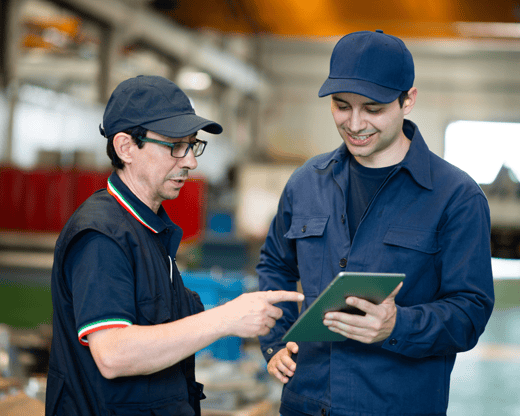 With so many benefits, why have some businesses not made the move towards a digital supply chain? There are three contributing factors:
People
It is no secret that the Oil and Gas industry has a shortage of experienced and qualified people. This poses a real challenge in terms of employing staff who can do the required jobs effectively.
Processes
In a business, there are many different business and operational systems and processes that need to be integrated. This is often a cause for concern for many companies in terms of the cost and amount of time required to create a seamless, integrated digital supply chain solution.
Technology
The implementation of new technology is often a challenge in terms of training staff and ensuring seamless business and system integration.
The benefits and value that a digital supply chain offers a business far outweigh the barriers. These barriers will also have a minimal impact on your business and operations if you choose a solution focused on your specific supply chain needs and partner with a service provider who understands the industry.
Conclusion
Digital supply chain transformations are changing the way businesses are performing. The implementation of innovative software solutions ensures that you are able to meet your customers needs, faster, more accurately and effectively than ever before. Not only does this ensure that your transport and distribution processes are more profitable, but it enhances your customer satisfaction levels, giving you a competitive edge. There are barriers to the implementation of a digital supply chain that include skills shortages, the integration of different business processes and systems and the adoption of new technology. These barriers can be easily overcome by partnering with an industry expert and thought leader, like Adapt IT Energy. With years of experience in the Oil and Gas industry Adapt IT Energy provides flagship software solutions that drive transformation. Let us help you digitise your supply chain and grow your business.