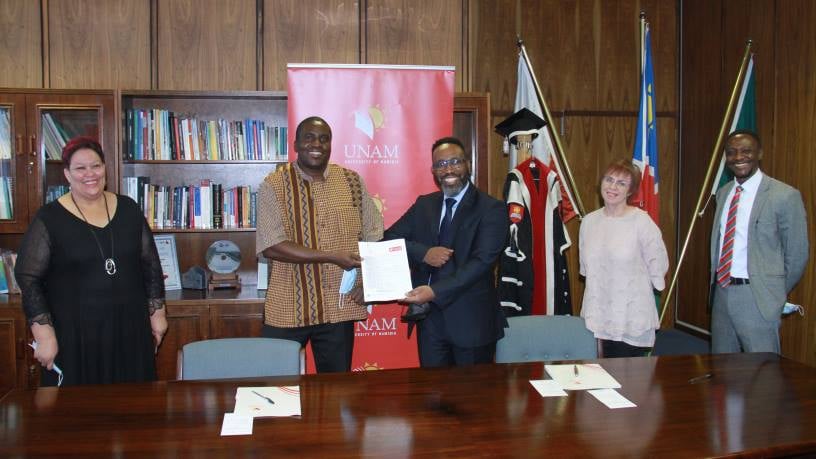 From left: Dr Maggy Beukes-Amiss, Director: Centre for Open, Distance and eLearning (CODeL), Prof Kenneth Matengu, Vice-Chancellor: University of Namibia,
Luxolo Rubushe, Managing Director: Adapt IT Education, Prof Erika Maass, Director: Academic Affairs, Erkkie Haipinge, Deputy Director: eLearning, Centre for Open,
Distance and eLearning (CODeL).

JSE-listed Adapt IT Holdings (Adapt IT) officially formalised its partnership with the University of Namibia (UNAM) to achieve the commercialisation of distinct solutions at partner institutions, the co-creation and co-investment in niche solutions that can be potentially rolled out across the markets Adapt IT serves and leveraging technology resources to address a particular need.

The partnership cemented in the form of a memorandum of agreement (MOA) strengthens the existing relationship between Adapt IT Education and UNAM at a strategic and technology transfer level.

Adapt IT Education will help position and support the UNAM as a Centre of Excellence for Moodle LMS Services. Adapt IT Education will pilot new solutions and services at UNAM so that the university becomes a reference site for leading developments in online teaching and learning. UNAM resources will be bolstered through specialised Moodle training to enable them to become Moodle subject matter experts, including the execution of Moodle products at other institutions of higher learning.

Adapt IT Education and UNAM have a shared objective of serving the public interest. Both parties agree to engage in joint product research and development with a particular focus on:
The access to UNAM's skilled resources – to work with and advise Adapt IT on joint development of projects relating to Moodle LMS;
Helping leverage UNAM's expertise to train and coach employees of other partner institutions in the roll-out of digital learning and teaching strategies across the market Adapt IT serves; and
The e-research agenda (including but not limited to: e-learning, which encompasses online learning as well as distance or hybrid learning, cloud technologies, big data, mobile technologies including apps, information security).
"I am happy to consolidate learning and teaching with technology, create space for creativity and allow research through different technologies. This is an opportunity for students to showcase their talents," says Professor Kenneth Matengu, UNAM vice-chancellor.

"This MOA is an exciting opportunity for Adapt IT Education. It will further cement our commitment to provide our clients with cost-effective and cloud-ready solutions delivered through mobile technology platforms.

"The opportunity to be exposed to relevant research areas will allow Adapt IT to evaluate and present the best strategies and solutions to address challenges faced by various partner institutions. Also, the international certification of the Moodle Learning Management System (LMS) that allows us to offer superior digital teaching and learning solutions is an important credential for this project," says Luxolo Rubushe, Adapt IT Education MD.

Source: IT Web